Getting there can be half the fun. Maybe even more.
Up a mountain or two. Alongside scenic rivers. Down wooded byways. Through historic towns. Pennsylvania roads can take you a lot of great places. Let's add one more to the list — your local USSCO FCU location. Wherever you tend to travel, our friendly lenders can set you up with affordable financing that gets you there in style.
Financing for new and used cars, trucks, and SUVs
Competitive rates keep your monthly payments under control
Get rate discount by scheduling automatic loan payments from your USSCO FCU checking account  [Dealer Financing excluded]
Flexible repayment plans of up to 60 months — or more 
Fast, hassle-free applications
CARFAX® Vehicle Reports are a helpful tool to make your car purchase experience a dream.
USSCO FCU offers a discounted price of $20.00 per CARFAX® report to allow members to research vehicle history. As an added bonus, if you finance your vehicle purchase through USSCO FCU we will refund the report fee.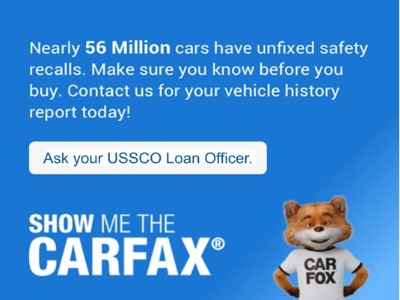 It's the leading source of vehicle history information and has the most comprehensive vehicle history database available in North America.  Learn more about CARFAX® here.
Ask your USSCO Loan Officer for your CARFAX® Vehicle Report TODAY!
Want to save some time? We've partnered with Keystone Lending Alliance [KLA], so you can get USSCO FCU financing directly at hundreds of auto dealerships across the region. Visit our Member Auto Center to start your search. 
RVs and Other Vehicles
Work hard. Play hard. Ride fast. Have fun. At USSCO FCU, we believe that everyone needs the chance to cut loose. That's why we offer flexible financing on vehicles that let you feel the wind in your face, dip a line in the water, or discover a lot more of America. 
Financing for motorcycles, motorhomes, campers, boats, ATVs, snowmobiles, and more
Loans for new and used vehicles
Repayment terms up to 72 months
Fast, hassle-free applications
Ready to get started? Log into your Online Banking account, click the Application tab, and follow the instructions.
Questions? Just stop by any USSCO FCU office or give us a call at 814.266.4987 or toll-free 866.877.2628.
USSCO Federal Credit Union is a full-service financial institution with Pennsylvania offices in Johnstown, Somerset, and Ebensburg.
Rates based on credit-worthiness.
These products offered are not deposits and are not federally insured.