October's Member Appreciation Month was A GIFT CARD / GIFT CERTIFICATE EXTRAVAGANZA in 2022!
We hope you enjoyed this year's Member Appreciation Month as much as we did. Along with FREE coin counting all month and FREE shredding October 17 – 21, we had some GREAT PRIZE GIVEWAYS.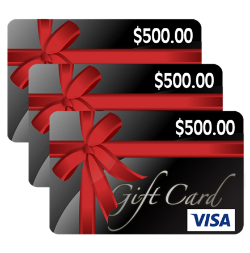 GRAND PRIZES: $1,500 Visa Gift Cards  
Our GRAND PRIZE WINNERS in each community office:
Georgette Frederick, Richland
Sam Marguccio, Moxham
Mike Rensko, Somerset
David Reese, Ebensburg
We gave away Ten [10!!!!!] $100 Gift Cards to leading local businesses in each community office.
We hope you will visit and enjoy these popular businesses in your area.
Congratulations to our 40 lucky branch winners:
Patty Gustkey, BigDogz Grill
Aaron Fyock, Conzatti's Market
Claire Stepren, Em's Subs
Andrea Christina, The Homestead Inn
Travis Fleming, Jake's Pub & Grill
Dawn Instone, Johnstown Inn
Liz Hornick, Market Basket
Ronald Gritzer, Pappy's Family Pub
George Lane, Precious Metals and Diamond Company
Lisa Ruffing, Rizzo's
Richard Ellis, Asiago's
Sandy Bischof, Balance
David Anderson, BiLo
Mark Geiser, Boulevard Grill
Anna Gartrell, Capri Pizza
Mike Kawchak, Crow's Nest
Kim Shesko, Franklin Street Bar & Grill
Ron Horvath, Luna Azteca
Don Statler, Tap814 Speakeasy
Denise Molinic, TnC's
Terry Ohler, Eat'n Park
Dianne Rayman, Italian Oven
Kristin Durst, Kings
Stanley Wickham, Little Caesars
Brian Clay, Pine Grill
Dave Sanzi, Pizza Hut
Emma Armstrong, Rey Azteca
Natalie Davis, Ruby Tuesday
Glenn Hoover, Stairs
Andrew Lucas, Tailgatez
Karen Bugosh, Clark Powell's Restaurant & Bar
Tim Caroff, Fords Corner Beverage
Emily Grove, Italian Village Pizza
Theresa Dunmyer, Kosta's Restaurant
Danielle Vandenbergh, The Meadows
Joan Villa, Mid's Candy
Eric Alexander, Pizza Hut
Karen Sarlouis, Rik-N-Niks
John Borlie, Stager's Store
Cindy Hurtack, Valewood Farms
Thank you for your continued support and business!
USSCO Federal Credit Union is a full-service financial institution with Pennsylvania offices in Johnstown, Somerset, and Ebensburg.