Make A Loan Payment EXCITING NEW OPTION!
Select a category above and then click on topic below to learn more.
What is the "Make a Loan Payment" website option?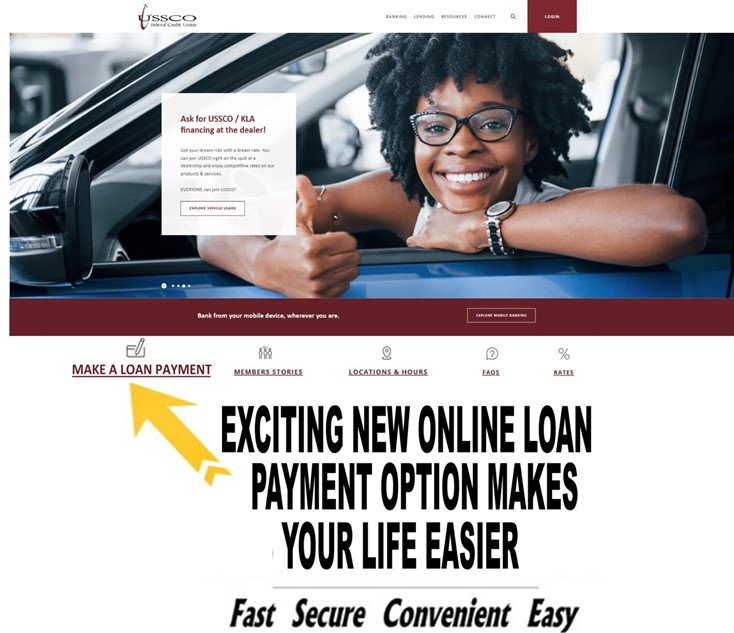 Don't write a check! Ditch the expensive stamps! Throw away
that coupon book! Save time! Relax!
Try our new online "Make a Loan Payment"
website option, very popular with
USSCO members for vehicle—and all other—loans!
---
Ready to try it for yourself? Review the step-by-step instructions below, then
CLICK HERE...
---
Set Up Your Account and Make a Loan Payment:
Step-by-Step Instructions
Set Up Your Account
Member account number 
For security purposes, you need to call us at 866.877.2628 toll-free to get your full member number to set up your account
Last four of your SSN
First name
Last name
Email  [this will be your login]
Mobile number
Choose a simple 4-digit PIN
Set up frequency of payment reminders
Choose "email" or "Text me" to set up how you want to receive your reminders
Click on "Continue"
Set Up Your Loan Payment
Select payment method: Debit Card or Bank Account
Enter information requested   [example shown if paying with bank account]
– Bank Account Holder Name
– Routing Number
– Bank Account Number
– Confirm Account Number
– Account Type
– Save Payment Method
Click on "Continue"

Review and confirm all the information is correct
You will see completed transaction on screen
You will get an email or text confirmation to account you selected at account set-up
Make A Loan Payment
When you login again to make a payment, it will list all loans you've set up
If you need to pay another loan on the account, you can also go to your name in the top left and click "switch" to select another loan to pay
You can select automatic payments for a specific date or make a manual one-time payment for any date of your choice
To set up a different loan payment, follow the same steps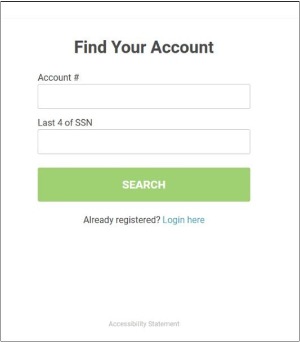 That's it!
What could be easier? Or more convenient?
Select a category above and then click on a topic to learn more.
Report a lost or stolen USSCO credit card
To report a lost or stolen USSCO Credit Card, contact Elan's 24-Hour Cardmember Services at 1.800.558.2424 or by email by logging into your account and clicking on Messages.
Report a lost or stolen USSCO debit card
Call 1.888.297.3416 to report a lost or stolen Debit Card.
Debit card transaction assistance
USSCO's Fraud Department sends out text/email messages if a charge looks suspicious or out of character for you, such as larger amounts than usual or charges out of the area.
You must respond to an alert or we may freeze your card temporarily to protect you against potentially fraudulent charges. This is for your safety.
If you know you will be going out of town, you can alert us ahead of time so we don't freeze your card.
REMEMBER, we will NEVER ask for your full debit card number or other sensitive information!
For assistance with debit card transactions, call 1.800.547.1350.
Select a category above and then click on a topic to learn more.
 Revised 06-15-2022
What is Mobile Deposit?                                     
Mobile Deposit allows you to deposit checks using the camera on your mobile phone or tablet.
How do I make a mobile deposit?
To make a mobile deposit, follow these steps:
Log into your Mobile Banking app on your mobile device
Click on DEPOSIT
Using your mobile device, click CHECK FRONT and take a picture of the front of your check with your mobile device
Click CHECK BACK and take a picture of the back of your endorsed check with your smart phone
Fill in the CHECK AMOUNT
Click on MAKE DEPOSIT
You will receive a message on your mobile device that the deposit was successful
You will receive an email confirmation of your deposit
Be sure to verify the deposit to your account the following business day
What happens if I don't get confirmation that the deposit was successful?
If your deposit was not successful, you will receive an error message with prompts aimed at fixing the problem. Your check is not deposited into your account until you receive confirmation that it was successful. It is your responsibility to ensure you receive confirmation that your deposit was successful before that money can be accessed.
What do I need in order to use Mobile Deposit?
To use Mobile Deposit, you must have the following:
An open checking, savings, or money market account in good standing at USSCO Federal Credit Union
Be enrolled in USSCO's online banking
Submit a completed and approved Mobile Deposit application
The most recent version of our Mobile Banking app for iPhone/Android/iPad downloaded from The App Store or Google Play
Who is eligible to use Mobile Deposit?
Mobile Deposit is available to members who meet the following criteria:
Maintained a USSCO Federal Credit Union member account relationship for at least 90 days [3 months] OR provided prior 90 days [3 months] activity from another financial institution
The account must be in good standing
No overdrafts within the last 90 days [3 months]
Enrolled in USSCO's online banking
How do I request Mobile Deposit?
Members may stop in or call any community office to receive a copy of the Mobile Deposit Application Packet which includes Frequently Asked Questions [FAQs], Mobile Deposit Agreement, and Application. Read and keep a copy of the FAQs and Mobile Deposit Agreement for future reference.
Complete and return the application to any community office for review/approval.
Do I need to use a deposit slip to make a deposit through Mobile Deposit?
No deposit slip is required. You only need to endorse the back of your check, then take a picture of the front and back of the check being deposited.
Should I endorse my check before taking a picture of it?
Yes, you should endorse your check as follows before taking a picture:
"For Mobile Deposit Only" [Write all four words on first endorsement line]
Account Number
Checks that are not properly endorsed will be rejected when you attempt to make the deposit.
What types of checks can I deposit with Mobile Deposit?
Checks made payable to you and drawn on a bank within the United States are eligible for deposit. Some large business-size checks may not work with Mobile Deposit.
The following types of checks cannot be deposited using USSCO's Mobile Deposit:
Checks drawn on a financial institution located outside the United States
Checks not payable in United States currency
Savings Bonds
Third Party Checks
Returned or Re-deposited items
Checks requiring two endorsements
Please refer to the Mobile Deposit User Agreement for a complete list of ineligible items.
When will my funds be available from deposits made in Mobile Deposit?
Deposits will be available in real time as processing permits.
Are there limits for deposits made through Mobile Deposit?
Yes. You can deposit checks into both your share and checking accounts if you choose, but the deposit limits are combined and limited as follows:
Combined: $3,000.00 per day / $12,000.00 per month
Combined: 5 checks per day / 25 checks per month
What do I do with a check after I deposit it through USSCO's Mobile Deposit? Write "MOBILE DEPOSIT ON [insert date]" on the face of the check. Verify that the deposit shows on your monthly statement. Keep the deposited checks in a secure area for 30 days and then destroy.
You may be asked to produce the original check if a problem occurs during the mobile deposit process, so it is important to retain deposited checks for 30 days before they are destroyed.
Is my personal or financial information stored on my phone?
No. USSCO's Mobile Banking does not save any files with personal or financial information on your mobile device. Checks deposited using Mobile Banking are not saved to your pictures. That information stays strictly within online banking.
What is the cost for Mobile Deposit?
There is no charge to members for using USSCO's Mobile Deposit. Web access is needed to use the Mobile Banking app. Your mobile carrier may charge access fees depending on your individual plan. Check with your carrier for specific fees and charges. Message and data rates may apply.
I have a Business Account. Can I use Mobile Deposit?
Business members, please contact your local community office to request information about our uCapture remote deposit product —which is geared to handle your check deposit volume.
iPhone and iPad are trademarks of Apple, Inc.
Select a category above and then click on a topic to learn more.